An HCU Money Market increases your saving power.
Money Market
Earn better rates than a traditional savings account, and rates keep getting better as your savings grow.  An HCU Money Market pays our best rates on accounts with larger balances.  And, you still have access to your money, when you need it.  

Earn our best savings account rates with an HCU Money Market. Plus, our tiered rates help you save even faster. 

There's no time commitment. You have access to your funds when you need them.

Your funds on deposit are federally insured by NCUA up to $250,000.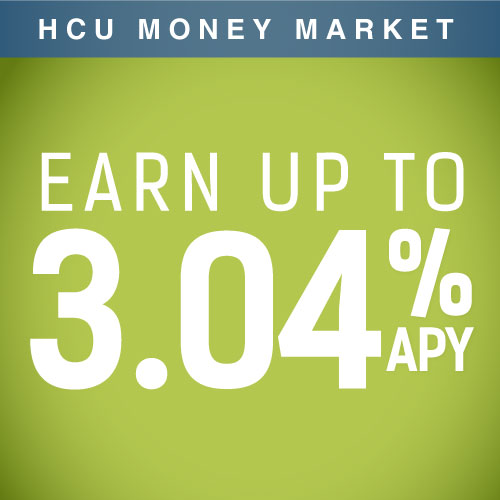 Money Market Features
A minimum balance of $10,000 is required to earn dividends
Up to 6 withdrawals per month, including checks
Accounts are tiered so you earn a higher dividend on larger balances
No time commitment means funds are available to you at any time
Rates are subject to change daily
OPEN AN ACCOUNT
*APY=Annual Percentage Yield.  Membership Required.  No minimum deposit to open an account.  $10,000-$24,999 is .05% APY, $25,000-$49,999 is 1.00% APY, $50,000-$99,999 is 2.01% APY, $100,000-$249,999 is 2.52% APY, $250,000-$499,999 is 5.52% APY, $500,000-$999,999 is 2.78% APY, $1,000,000 is 3.04% APY.  APY current as of 7.1.2023.